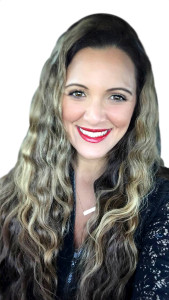 My name is Michelle Rozzen and I'm a licensed massage therapist. I am professionally trained in a broad scope of Western, Polynesian, and Oriental massage modalities and have over 12 years of experience working in luxury retreats and with professional athletes and celebrities.
I have worked on professional NFL, NBA, NHL and MLB players, water polo players, surfers, and snowboarders both locally and internationally. For 5 years I was the massage therapist on tour with the United States Bodyboarding National Tour and with the International World Tour of Bodyboarding. I've provided massage therapy at surf contests, such as the MSA Classic and the ASP US Open of Surfing. In 2014, I had the opportunity in massaging at the Dallas Cowboys Training Camp in Oxnard. I currently work with ROC Nation Management and members of the Los Angeles Rams, Pittsburgh Steelers, Miami Dolphins, New York Jets, Houston Texans, Los Angeles Chargers, Atlanta Falcons, New Orleans Saints, Chicago Bears, The 49ers, Los Angeles Lakers, Los Angeles Clippers, Golden State Warriors, Brooklyn Nets, Detroit Pistons, and the New Orleans Pelicans. Since 2008, I have worked with Athletic Gaines and clients of NFL/NBA trainers and agents. I work with an elite clientele in the entertainment industry, including actors, artists, DJs, musicians, dancers, and performers. My clients have included artists, musicians, dancers and production teams with; Pharrell Williams, Justin Timberlake, Jay-Z, Adele, Michael Buble, Alicia Keys, Fergie, Jennifer Lopez, Michael Buble, Maxwell, Beyonce, NeYo, Lauryn Hill, Eminem, Rihanna, John Legend, Godsmack, D'Angelo and the Vanguard, Richie Sambora, Lady Gaga, Kendrick Lamar, BASSic Black Entertainment, Adam Blackstone and the All Star Band.
In addition to working with Hollywood's elite, I also provide detox massage therapy at drug and alcohol treatment centers and rehabilitative and restorative massage to the elderly, ALS and cancer patients. I spend my time giving back to the ALS community, where I have raised over $6 million to further research and awareness of this crippling disease.
The modalities I specialize in are: Swedish massage, deep tissue massage, Thai massage, sports Massage, Lomi Lomi massage, CranioSacral therapy, pregnancy massage, and therapeutic stretching. Additionally, I offer cupping, gua sha, and graston therapy. I use organic essential oils, including cannabidiol (CBD) oils as requested into my practice. I have developed a powerful and unique ability to listen to each body and its path for healing, re-­balancing, and aligning.
I am based in Los Angeles and available for private house calls, spa parties, backstage & on-­set, in studio, sporting & performance events, and traveling with and to clients locally and internationally.
For an appointment, please contact me.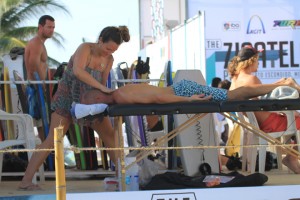 "When you touch a body, you touch the person, the intellect, the spirit, and the emotions." ~Jane Harrington
I'm a Southern California girl, with a love for the ocean, photography, massage therapy and non-profit work. At age 10 I took on bodyboarding, learned the art of photography in high school, which then led me to my passions of surf, beach lifestyle photography and massage therapy. I graduated from San Jose State University and earned a Bachelor of Arts in Creative Arts while also playing Division-1 water polo for 5 years. During college, my father was diagnosed with Lou Gehrig's Disease (also known as ALS) and my desire to help people became a big part of my kind spirit. In 2004 after my father's passing I created the 'NEVER GIVE UP' campaign and have since helped raise over $6 million which was donated all to The ALS Association, a non-profit organization for people with ALS.  In addition to helping raise funds & awareness for organizations, I enjoy helping people physically through massage therapy. I absolutely love what I do and am very passionate about the healing arts.
When not working, you can find me hiking, doing yoga, bodyboarding, swimming, going to concerts, creating art, writing and traveling the world.
"If you see someone without a smile, give them one of yours." ~Dolly Parton