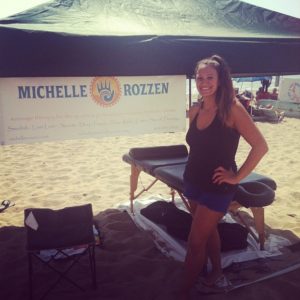 I've been super busy working my massage summer sessions at various events in California. I started the summer off doing massage for professional surfers at the US Open of Surfing event in Huntington. This was a great experience, as I worked under Dr. Tim Brown, who is the head Chiropractor for the ASP World Tour. Dr. Brown also is the Founder of IntelliSkin, a posture perfecter. I was also lucky enough to work with some of the top eastern healers and western doctors, pretty incredible experience.
A few weeks after the US Open of Surfing contest, I did massage at the Warped Tour in Ventura for all of the bands backstage. Such a fun day at the Ventura County Fairgrounds.
My summer massaging continued at the Jennifer Lopez concert for all the JLo dancers. Working with JLo's dancers was an incredible experience. I was set up backstage at the Staples Center and worked with over 20 dancers. Best of luck to them on tour this year!
Later in the summer I also had the opportunity to do massage at the Freestyle Sessions b-boying event at Club Nokia and the MSA Malibu Classic SurfAid Cup Invitational.
My summer sessions continued out of venues and off the beach. I was featured in Riptide Magazine, with an article about my massage work with the IBA World Tour of Bodyboarding. Check it out here: http://www.riptidemag.com.au/news/826-michelle-rozzen-interview
It's been fun and I am looking forward to adding some more events to my calendar to finish the year off.