Last week I provided corporate massage for Equis Staffing in Calabasas. It was a surprise and the employees were so thankful and happy!
Equis was celebrating Justin's 5-year anniversary with the company, so massage was provided to all; and we also enjoyed a delicious sushi lunch.
Thank you Carrie for this wonderful opportunity!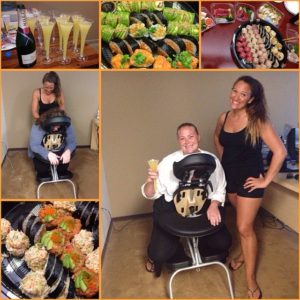 Why corporate massage? 
There are so many benefits of having a massage in a corporate environment. I set up a portable massage chair in a conference room or any other unused office space at your location. This ensures for privacy and makes you feel comfortable while getting a massage at work.
Physical Benefits of Business Massage
Relieves muscle pain and aches
May prevent depression and anxiety
Lowers blood pressure and heart rate
Increases focus and stimulates the immune system, which is important for your mind and body
Alleviates health problems associated with repetitive movement (typing, standing, factory assembly line, etc.)
Mental Benefits of Ongoing In-Office Massage Chair Programs and Wellness Events
Promotes a relaxed state and mental alertness
Reduces anxiety and stress levels
Creates body awareness
Enhances capacity for calm thinking and creativity
Increases awareness of mind-body connection
Gives you a feeling of well-being
Fosters peace of mind
Improves ability to monitor stress signals and respond appropriately
Satisfies needs for caring and a nurturing touch
Financial Benefits of Workplace Wellness Programs
Affordable investment
Results in more productive employees
Increased company morale and a more loyal workforce
Can attract more jobseekers when presented as part of an employee incentive package
Convenient and requires little downtime; sessions last for only a few minutes
Less absenteeism and sick days among employees
*research taken from body-charge and infinite massage.