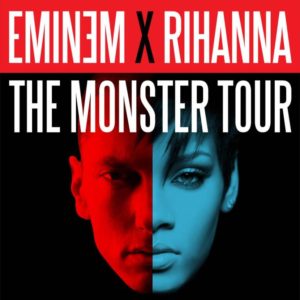 The Monster Tour hit Los Angeles last week, featuring the collaboration of two of music's biggest superstars, Eminem and Rihanna.
I was honored to do massage backstage with Team Bassic Black  at the Rose Bowl in Pasadena, CA. Today I feel super blessed having the opportunity to work with Rihanna's band and meet so many talented musicians. The two shows were both sold out and the energy was just insane.
Aaron Goode, the Trombonist for Rihanna & Eminem, said to me the following day after the massage,
"Michelle, you are the absolute truth. My body feels 2000% better. I wish I could fly you out everywhere I go. You definitely have the magic touch."
I had a great time working with Team BBE, thanks for all your support and love Adam Blackstone.
Check out the next tour dates for Eminem x Rihanna The Monster Tour here